Setting up a first mobile unit to offer neuro-rehabilitation services in the community in Mauritius
Mauritius has much improved in the field of medicine over the last decades; yet, it has no facilities for structured multidisciplinary rehabilitation. It has focused on the provision of acute services at the expense of post-acute care in many areas of medical care: cardiovascular, pulmonary, locomotor and neurological. Thus Mauritians, rich or poor, are deprived of access to appropriate care after a Stroke, Brain Injury or Spinal Cord Injury as there is a lack of expertise on the island.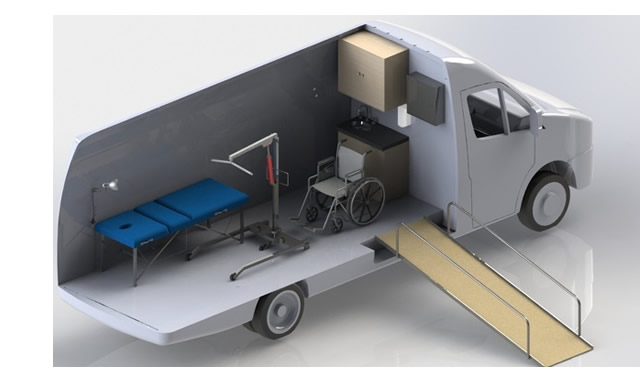 Given the high incidence of stroke, acquired brain injury and spinal cord injury in Mauritius, the start of a mobile neuro-rehabilitation service albeit on a small scale but with the potential of a high reach and impact is imperative . To implement this project, the NEURAM Foundation, which is charitable Foundation set up in February 2017, has tapped on a network of international specialists in the field of neuro-rehabilitation who are willing to offer their time free-of charge to train Mauritian medical and para-medical personnel who will in turn provide a professional neuro-rehabilitation service at a nominal cost to patients suffering from stroke, or acquired brain injury or spinal cord injury.
Why Neurorehabilitation is needed in Mauritius?
Every day we hear about road accidents and most of them involve motor cycles and cars. Few of the victims die but the majority of them are paralysed for life. According to official figures, every year more than 500 injured accident victims are heavily disabled. In addition to accidents, an increasing number of Mauritians sustain a stroke . The number of patients with cerebro vaccular patients treated in Government Hospitals rose from 1908 in 2010 to 3175 in 2017. Many of these patients do not die but are significantly 'crippled' for life with the inability to speak, swallow, move, feel and may have continence problems. Without appropriate and specialized care they can become remain bed-ridden or have very limited chance to reintegrate society. What happens to these patients? After leaving hospital or clinic after emergency and acute treatment, they end up 'vegetating' at home. Rehabilitation for all these patients is complex and demands the skills of a team consisting of specialists in Rehabilitation medicine, specialist physiotherapists, occupational therapists, speech and language therapists, clinical psychologists, and neuro-rehabilitation nurses. Such an infrastructure requires coordination and does not presently exist in Mauritius. As a result most of them live a life of misery, can no longer work, stay at home on inappropriate wheelchairs or are bed-ridden; their physical condition keeps deteriorating due to lack of exercise and appropriate care. They are dependent on family members and carers for their daily needs (food, bath, toilet) but the latter have not been trained to give the appropriate care although they may offer a lot of love and goodwill. The family members and carers in turn develop back pain and other aliments due to lack of training in manual handling and absence of appropriate techniques and mobility tools to take care of the patients. The lack of appropriate rehabilitation results in patients not reaching their potential and worse still, developing secondary complications which in turn require further medical involvement and unnecessary additional costs. Many of them develop pressure sores (escarres), contractures of their hands and feet muscles, and other health problems like urinary tract infections, bowel impaction and psychological distress. Is the status quo acceptable? NEURAM FOUNDATION does not consider that it is; hence the decision that led to the setting up of the Foundation.
Research on neurorehabilitation in Mauritius
In 2010, UK based Mauritian national, Professor Anbananden Soopramanien, Consultant in spinal injuries and rehabilitation medicine, responding to a call for research projects from Mauritians settled abroad, proposed that the topic of Neurological Rehabilitation needed urgent attention. The Ministry of Health funded the Mauritian researchers who assisted Prof Soopramanien to carry out the research on 'needs assessment in neurological rehabilitation'. The above research led to a publication in Archives of Physical Medicine & Rehabilitation Vol 93 Dec 2012 "Mauritius Calling: Medical Care and Neuro-Rehabilitation Needs in an Oceanic Idyl". This article highlighted some of the challenges faced by neurological patients suffering from neurological conditions of Spinal cord Injury or stroke or Traumatic Brain Injury:

Patients and families reported the lack of a reliable and easily accessible transport system to take the injured to emergency care and patients to follow-up visits.

There are few home visits by doctors, physiotherapists, or speech therapists.

The major initiative to attempt to offer regular home care to the disabled is the community-based rehabilitation program, but it is understaffed and overwhelmed by the number of patients. The average proportion of the time spent on neurologic cases by community-based rehabilitation program staff every week ranged from 10% to 50% because the program does not focus exclusively on patients who need neurological rehabilitation.

Family members must care for the injured and thus attend to the rehabilitative needs of patients without training. This results in the occurrence of severe secondary diseases such as urinary tract infections and pressure ulcers.

Disabled patients pointed to the small allowances, which prevented them from receiving full-time care at home.

The lack of specialised home equipment was emphasized as it hampered the patients' rehabilitation. This includes hoists, access rails for stairs, profiling beds, adapted chairs, toilet chairs, wall bars, and adapted cutlery as well as equipment for physical therapy.

Interviewees also lamented the lack of day-care centers because such institutions would be helpful in efforts to reintegrate patients in the community and involve them with leisure activities. Staff motivation to provide a high level of care was also flagged as an issue.
Field evidence of neurorehabilitation issues in Mauritius
These research findings on the challenges faced by neurological patients were confirmed in November 2015 by a multidisciplinary team of specialists in neurorehabilitation, led by Professor Soopramanien. The team visited patients in their homes, communities and conducted dedicated clinics for patients coming from all main hospitals. Among problems requiring attention the team identified the high prevalence of severe pressure ulcers, inadequate management of continence (impaired bladder and bowel functions), speech and swallowing difficulties, pain management, spasticity, and contractures. In the homes, families despite being very supportive were not trained to lift and transfer their relative from bed to wheelchair and they did not know how to adapt their houses and environment to improve the patient's mobility and independence. The patients suffered from an absence of adapted transport to travel to the hospitals for treatment as out-patients. There was also a lack of physiotherapists and occupational therapists trained in neuro-rehabilitation and an absence of a multi-disciplinary coordinated approach to disability management involving relevant experts, that is, physiotherapists, occupational therapists, speech and language therapists, and specialist doctors.
Why NEURAM Foundation?
The visit of Professor Soopramanien and the team of neuro-rehabilitation specialists led to the conclusion that in order to enhance the lives of disabled people suffering from neurorehabilitation conditions, there was a need to set up a permanent structure in Mauritius to drive neuro-rehabilitation into the mainstream of health care, train a pool of allied health care professionals to provide services in neurological rehabilitation and raise awareness on neurorehabilitation issues amongst the clinicians, the community and the families of patients.
On 22 February 2017 a not-for-profit Foundation was registered as NEURAM (NEURo-rehabilitation Action (Mauritius) Foundation).
The Foundation is managed by a Council comprising the following Councillors:-
Prof. Anbananden SOOPRAMANIEN - Founder & Chairman

Bima BAPPOO

Mirella COURONNE

Kailash Naginlal MODI

Dr Akshay NAOJEE

Hootesh RAMBURN

Dr.Rajiv REEBYE

Veda SOOPRAMANIEN

Nikhil TREEBHOOHUN

Dr Sajeda VAYID
The Mission of NEURAM Foundation is :
To act as a vehicle for raising awareness on areas related to neurological disabilities and for improving neurological rehabilitation care
The Strategic Goals of NEURAM are to:
Raise awareness on neurorehabilitation issues
Improve the quality of life of disabled patients affected by Spinal Cord Injury, Acquired Brain Injury and Stroke
Strive towards excellence at all stages of neurological treatment, through professional training and coaching and by using medico-surgical knowledge, technology, aids and equipment adapted to the needs of neurorehabilitation patients
Areas of Intervention of NEURAM
As neurological care has lagged behind in Mauritius, technology transfer has emerged as a core activity of NEURAM. Its activities focus on the following broad areas:
i. Awareness raising about issues related to neurological disabilities. This is done through talks, conferences, hands-on workshops , interactive sessions regrouping allied health care specialists, neuro-rehabilitation specialists , carers and patients. In addition a website (www.neuram.org) provides information on trends in neuro-rehabilitation and updates on the activities of the Foundation , articles and interviews of neuro-rehabilitation specialists appear occasionally in the print media and flyers/brochures are published on specific topics
ii. Training. The targets are the families of patients, the general public and clinicians (nurses, doctors, physiotherapists, occupational therapists, carers). Initially specialists from abroad are being mobilised to provide the training, the aim being to train the trainers so that a local pool of trainers can be created within the first three years of operations. The Mauritius Medical Council has already given its approval for Neuram's training to be considered for 4 CPD points.
iii. Provision of care. The research work as well as the fieldwork revealed that the quality of life of patients with mobility problems can be greatly improved through some modifications to their physical environment, the use of appropriate support equipment, and on the spot training of carers and family members on manual handling of patients.
Why a Mobile Neuro-Rehabilitation Unit?
In the pursuit of the objective to empower neurorehabilitation patients and train families of patients to support them in their home, NEURAM has identified an immediate solution to the problem of patients being unable to access care and treatment because roads, pavements and transport facilities in Mauritius are not disabled-friendly.
Objectives of Project:
NEURAM proposes to acquire and convert a bus or minivan into a mobile unit which will bring the treatment and care near to the patient's home. The interior of the vehicle has been designed with the contribution of a multi-disciplinary team of neuro-rehabilitation specialists and the components that will be included in the mobile unit have been carefully thought out to make it fully functional and capable of acting like a mini neuro-rehabilitation clinic on wheels . The design of the customized vehicle is attached.

The mobile unit will serve the following purposes:-
Train a pool of multidisciplinary neurorehabilitation clinicians to provide treatment on a regular basis in different parts of Mauritius.
Provide treatment on a regular basis to patients who are bed-ridden or have very limited mobility and who cannot afford to travel to obtain treatment and /or to pay for the treatment
Provide training and advice to patients, home carers and family members on the problems resulting from the consequences of paralysis which were identified in the previous research and field visits, namely:
Skin: teach the prevention, grading and treatment of pressure ulcers.
Manual handling and transfers: show how to help move patients who cannot use their limbs and are heavy and dependent.
Continence: Promote continence ( bladder and bowel)
Spasticity and contractures: teach appropriate exercises and use of appropriate support devices to reduce spasticity and contractures
Target beneficiaries
The target is to reach and provide treatment each year to around 1500 patients suffering from either stroke, or Acquired Brain Injury or Spinal Cord Injury. These categories of patients are all 'vulnerable'; however, because of their greater vulnerability, care will be taken to prioritise those within the Social Register of Mauritius.
Estimated Cost of Project
The implementation of the project requires initial cost of purchasing a mobile van/minibus and setting up office facilities for the team (the rental of the office is free) and recurrent costs covering mainly the hiring of a team of therapists, nurses, a secretary/coordinator (to coordinate time table of employees, and scheduling visits to patients applying for treatment) and a driver for the vehicle.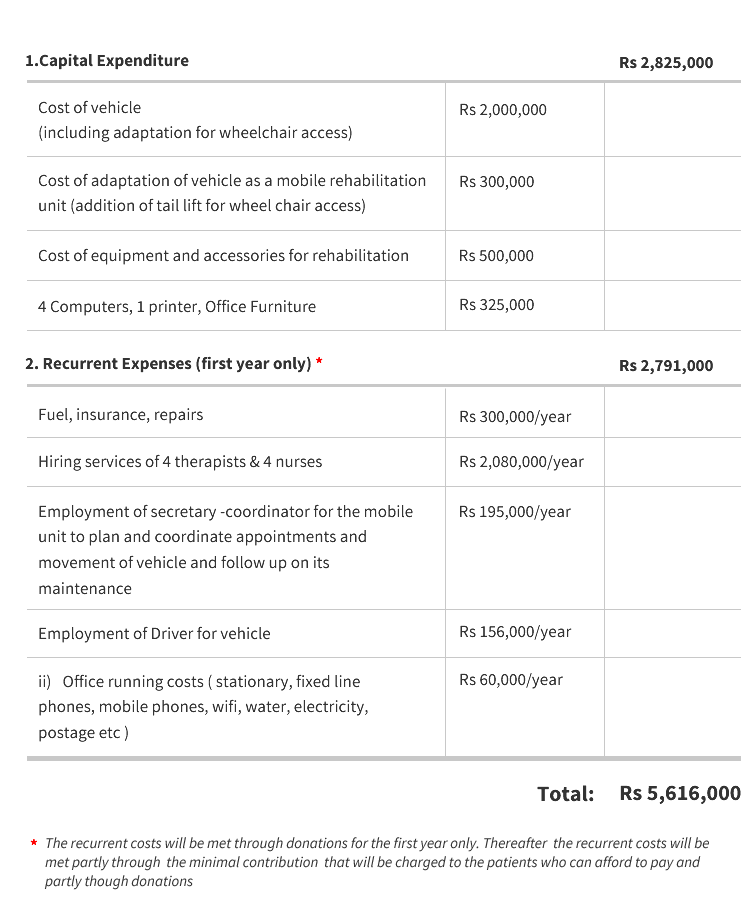 After the first year of operations, NEURAM aims at generating revenue in order to cover the recurrent expenses amounting to around Rs 2,000,000 annually. Patients will contribute a token fee for the treatment and those who have the means to pay more will be encouraged to do so. Any surplus will be ploughed back in the project to improve the facilities and maintain the services of the mobile unit.
The Mobile Unit project will eventually be integrated with the project of setting up a neuro-rehabilitation centre in Mauritius within the next five years. The mobile unit will then be used to also transport patients who need more intensive treatment at the Centre.